Are you planning to shift from Zimbra to MS Outlook? Are you struggling with how to export Zimbra TGZ File into PST? We have come to the right place. We are sharing some helpful ways to export all desired TGZ files to MS Outlook.
When you compare these two platforms, you will come to know that MS Outlook is a more advanced and reliable application. Zimbra is free of the cost to the email client. It allows users to manage all their data. Zimbra offers some basic features like activity streams, RSS feeds, blogs, microblogs, badging, and points. MS Outlook offers incredible support to users. It uses to send, receive, and manage emails. It is widely recommended to create a schedule, and manage appointments, meetings, and events. Users can manage their events smartly with the help of MS Outlook.

Reasons Why a User Like to Move from Zimbra to MS Outlook
MS Outlook is the product of Microsoft. It offers users advanced email management with the management of contacts, events, journals, emails, attachments, and various databases in folders. Outlook gives users the platform to make email communication smooth because users can work offline by storing databases in the OST file extension. Zimbra doesn't offer users much flexibility that MS Outlook gives.
Zimbra allows users to integrate antivirus software for data security. On the other hand, MS Outlook has in-built security features. It is an advanced application. It has dedicated file extensions. Robust security features make MS Outlook a number one choice.
A TGZ file size capacity is around 4 GB. It is unclear. But MS Outlook offers users enough file storage. The file size of OST and PST can stretch up to 50 GB. It means users have enough data storage facilities.
Manual Conversion from TGZ to PST File Format
Run MS Outlook on your system and straight go to the "File" menu then "Info" and then "Add Account Tab"
Press "Yes" to configure MS Outlook to your email account
From the given options, press the "Manual Setup" option
Press the "Next" button
After that, hit the "IMAP or POP" option
Now, provide the required information such as email address, password, account type, etc
After that, click on the "More Settings" tab
Press the "My Outgoing Server" and enable it
Pushthe "SSL" and enter the 993 as the port
Press the "TLS" and enter the 587 as the port
Finally, press the "Next" tab and then the "Finish" tab
Automated Methods to Export from TGZ to PST
Considering the demand for TGZ to PST conversion, several companies have introduced their conversion programs. Before you settle on one application, take your time to review the ratings and testimonials. A free trial of the app is a good idea.
TGZ to PST has received an excellent rating from its users. The tool is professionally designed. It is easy to operate and needs no technical assistance. Conversion with the help of TGZ to PST is easy and quick.
Discover some incredible features supported by the application
Bunch Data Migration
TGZ to PST Converter is a straightforward application. It exports selective TGZ files to give users accurate results. It can export a bunch of TGZ files. Users can select one, two, or more TGZ files to export to PST at once. The feature saves time and energy for users. It helps to avoid downtimes.
Accurate Conversion Assurance
The utility gives users accurate conversion assurance as it exports emails with all fields, contacts with all fields, events, and appointments. No data is corrupted or goes missing during the conversion process.
Give Control of Outputs
The utility gives accurate results and desired results. Users can export Zimbra TGZ File into PST or can export only selective folders of TGZ files to PST. Hence, users have excellent control over the results. It is an incredible feature of the application.
Lifetime Validity
The validity of the application is unlimited. Users can use the app as long as they desire. They can use the app as many times as they want. The lifetime validity is offered to individual and commercial users.
It is a lightweight program so users can keep it without considering the storage limit of their hard disks.
Steps to Export TGZ to PST Using Zimbra to Outlook PST Converter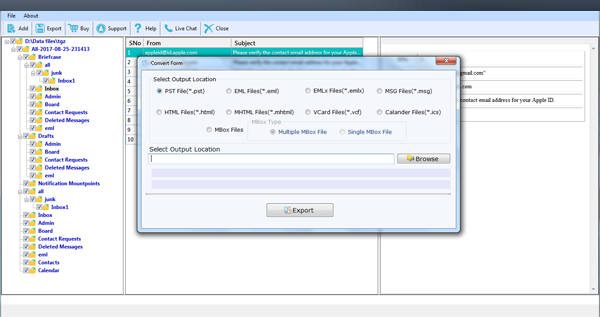 Download and launch the application with one click
Select the "Folder" or "File" option to browse particular TGZ files locally
Get the preview of selected TGZ files and choose the folder of your choice you want to export
Select the output location of the newly created PST file
Press the Conversion button

Conclusion
How do you find the manual import process? Do you find it easy? For non-tech savvies, we don't recommend you to go with any manual method without technical assistance. Keep the copy of the TGZ file that you want to export. It is how the process of conversion can become safe manually. For effortless conversion, consider a TGZ to PST Exporter. A professional tool will assure you of quick and reliable conversion results.