MS Outlook and Lotus Notes are two widely trusted platforms. They are reliable and advanced. For some reason, users like to switch from Lotus Notes to MS Outlook. Conversion from one platform to the other is not easy. It can be time-consuming and needs technical occupancy to transfer data. MS Outlook supports PST and OST file extensions only. Therefore, it doesn't support Lotus Notes. Users who are looking to open Lotus Notes contacts on MS Outlook need to export from Lotus Notes to MS Outlook.

Qualities of MS Outlook and Lotus Notes
MS Outlook is the email client launched by Microsoft. Lotus Notes is an email client launched by IBM. They store emails, contacts, notes, journals, events, and several other databases. These two platforms are more than an email client. They keep users updated with the latest events and allow them to work in a secure environment.
These two platforms perform an integral part of data management. They allow users to manage their contacts and emails without losing a single piece of information.
Unlike MS Outlook which stores contact in the PST file extension, Lotus Notes create a separate folder which is known as names.nsf to store contacts.
Reasons that Encourage Users to Export from NSF to PST
Different users have different reasons to migrate from NSF to PST. We are listing some common reasons that encourage users to migrate IBM Notes to Outlook desktop.
When you compare MS Outlook and Lotus Notes for prices, the subscription to MS Outlook is cheaper. Moreover, it is available with MS Office Suite. Users find double benefits by integrating MS Outlook with Office 365.
Maintenance of MS Outlook is cheaper than Lotus Notes. Moreover, the interface of MS Outlook is more interactive than Lotus Notes. Users can handle Ms. Outlook independently. Lotus Notes may require some technical help to understand how it works.
MS Outlook can integrate with Exchange Server to let users work offline. As the connection establishes, the tool automatically transfers all databases of MS Outlook to Lotus Notes.
Manual Conversion Lotus Notes Contacts to MS Outlook
The manual conversion process requires users to install MS Outlook and Lotus Notes first. Make sure your system has enough space to install and run these tools. There are manual steps to follow. One step is to export Lotus Notes to CSV and then Import CSV to MS Outlook. Step by step methods are provided here to follow.
Export Lotus Notes Contacts to CSV File
Launch Lotus Notes on your system and access the target NSF file
Hit the My Contacts option that is in the File menu to help list all contacts of your Address Book.
Go to the Menu bar, hit the More button, and select the Export Contacts option from the drop-down
It gives access to the Export Contacts page. From here, choose the contacts that you want to export and then the Comma Separated Value file extension in the Save As option. After that, hit the Export button.
Now, all contacts of Lotus Notes are transferred to a CSV file.
Get ready for the second step to export from CSV to MS Outlook. Be careful and follow all the steps carefully.
Import All Contacts from CSV to MS Outlook
To achieve this, we will take the help of the Import/Export feature present in MS Outlook.
 Launch MS Outlook after existing from Lotus Notes
From the File menu on the top left side, click the Open & Export option then the Import/Export.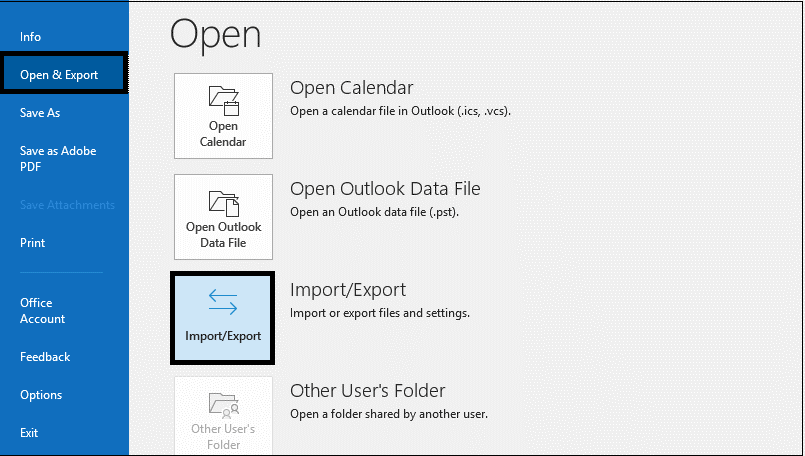 3. The tool will open the Import and Export wizard, choose the Import from another program or file option from the given multiple options, and hit the Next tab right after this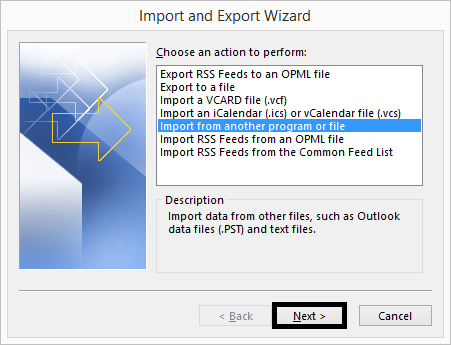 4. It will open the Import a File wizard, select the Comma Separated Values option and press the Next button.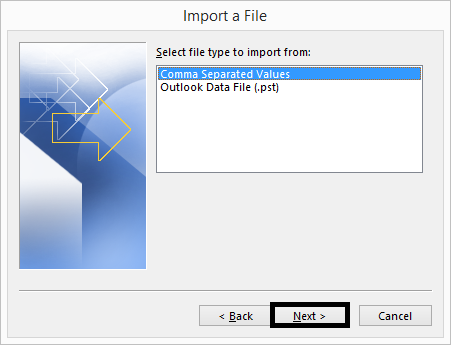 5. After this step, click on the "browse" button to locate the recent CSV file you have transferred and mark the option "don't import duplicate items" to avoid duplicates, and press the Next button.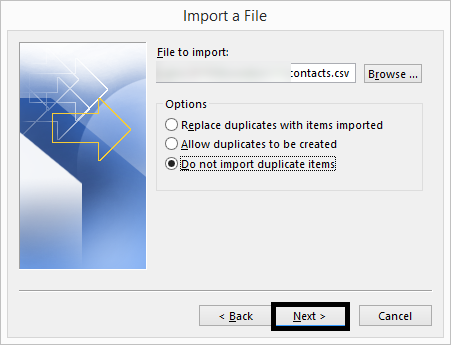 6. Here your destination file will be Contact of PST and hit the Next tab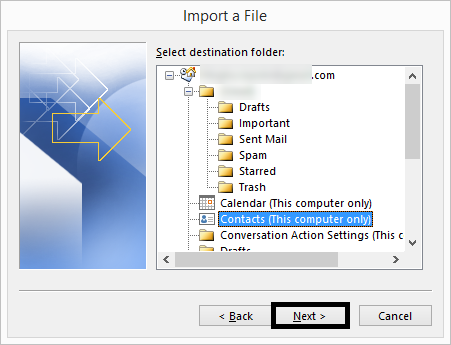 7. From this wizard, choose the added file and click Finish.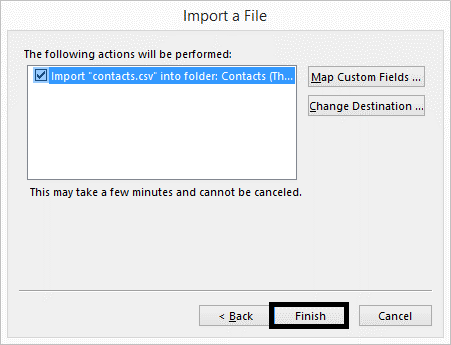 8. This is how you can export from Lotus Notes to MS Outlook. All contacts of Lotus Notes will be exported to MS Outlook.
Why Look for Other Options than Manual Conversion?
How do you find manual conversion? Do you find it easy and straight? No manual process gives an assurance of data accuracy. There are some limitations with negative factors. We are highlighting some downsides of manual conversion methods.
It has the risk of modification in formatting
The logo cannot be exported through this solution
There is no guarantee of complete conversion of databases
It is a time-consuming process
It cannot be performed without pre-installation of MS Outlook and Lotus Notes
Automated Conversion from NSF to PST
How do you find the abovementioned manual conversion solutions? Do you find it easy? It may be easy but it doesn't give assurance of data safety. At the same time, it needs technical proficiency. If you have a pile of contacts to export from Lotus Notes to MS Outlook, it is good to look for other solutions to export Contacts from Lotus Notes to MS Outlook. What will be better than a third-party conversion program?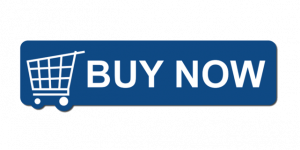 Lotus Notes to PST Exporter is an advanced application. The license of the app is valid for an unlimited duration. Users can use the app as much as they desire. It gives accurate results every time. Here are some incredible key features of the application that makes it outstanding.
The tool is independent. It doesn't need the pre-installation of MS Outlook and Lotus Notes. The application is reliable for conversion
The tool enables users to export contacts from single or multiple NSF files at once. Hence, the utility reduces the conversion time.
The filtration option of the tool gives users full control over conversion results. It gives desired results.
The program has a preview tab and a preview pane to get the preview of the uploaded NSF file.
The utility is safe to install on your Windows system. It gives 100% accurate results by exporting all contact fields including name, address, email ID, and phone number.
Configuration and the running process of the application are easy because of its interactive interface. Users with no technical skills can operate the program individually.
The licensed version of the application allows you to use the application as long as you want.