This post is complete guide for users to convert Outlook Express emails into Outlook 365 or MS Outlook. We will reveal several ways to you to accomplish the conversion task. We will know about manual way that converts Outlook Express file to Outlook 365 using Windows Live Mail. The next way is automated tool that provides direct conversion. If you find the former tough for you, go for the latter one.

Outlook Express and Outlook 365 are in the list of top email clients which are very popular among users. They are widely used by business and individuals. Outlook 365 or Microsoft Outlook is known as email manager that allows smart integration with Exchange Server. On the other side, Outlook Express is an email client with emailing features highly preferred for personal use.
Since MS Outlook offers complete package of emailing features and other data management facilities hence users in large numbers are moving to Outlook 365. If you are migrating from OE to Outlook 365, then for this you need to convert Outlook Express DBX file to Outlook 365 file. Now, we will focus on the methods to accomplish the conversion.
Freely convert OE Files to Outlook 365
If you prefer free manual solutions, then you need to be very attentive while executing it. This is because it can be complex & risky. The complete conversion process consists of following steps:
Export files from Outlook Express
Go for installation of Windows Live Mail
Import Outlook Express DBX data items into WLM
Export imported data items from WLM to Outlook 365
Let us explore these 4 steps in details.
Step 1. Export files from Outlook Express
Firstly, locate & copy DBX file in Windows XP.
If you don't know location, go to Tools and then for Options
From Options box, go to Maintenance tab and then hit Store Folder
In store location box, you will see a path under 'Your personal message store is located in the give folder'
Simply, copy the path and press OK to exit.
Now, close Outlook Express. Paste this path in Windows Explorer and hit Enter.
This will open location where DBX files are stored in your system
After knowing the location, copy Outlook Express folder to Windows 7 in My Computer folder.
You can copy DBX files to USB drive to open in Windows Live Mail.
Step 2. Installation of Windows Live Mail program
In case you are working with Windows 7 or 8, it is very simple for you to download WLM application. After downloading it, install properly and move to step 3.
Step 3. Import Outlook Express email items to WLM
To export OE emails to Outlook 365, first import them to Windows Live Mail.
Install and open WLM on Windows 7 computer
Go for File menu and thereafter go for Import messages
Pick Import from OE 6 option
Go to OE folder that is copied from your old system
Next, pick folders to move to WLM and hit Import button.
Next, close Import wizard.
Step 4. Export Windows Live Mail emails to Outlook 365
For migration of imported data from WLM to Outlook 365, below is the given procedure:
Launch WLM to export email & other items
Go to File menu, press Export and then go for Messages
From next dialogue box, pick Microsoft Exchange
Next, choose folders to export and close Export wizard.
This is all about the free solution for conversion of Outlook Express data items into Outlook 365. You can go with this method and completes the migration but it is extremely complicated & has multiple stages for conversion task. The entire process will take time. Also, migration of large DBX file of Outlook Express to MS Outlook 365 can be risky for users. To avoid all such issues, we suggest you a direct way for accomplishing the task.
Direct and hassle-free solution to Convert OE to MS Outlook 365
To suppress drawbacks of manual solution, automated ways are highly suggested as they are simple and direct ways for conversion of Outlook Express mailbox items to Outlook 365. You can simply employ DBX to PST Converter software that will make the conversion easier and safer for users.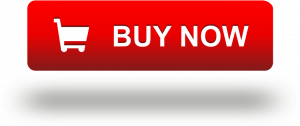 This is an ultimate solution to migrate data from Outlook Express to multiple formats like PST, EML, MBOX, EMLX & MSG. By exporting DBX file data into PST format, users can access it in Outlook 365 account. This software is highly tested & reliable way for conversion of OE data file to Outlook 365. The interface and steps of this utility are simple. Hence, no chance of confusion or data loss at all during the conversion process. No Outlook Express and other email clients installation is required to carry out the conversion with this professional utility.
Steps:
Step 1. Install and make this automated program ready to convert OE emails to MS Outlook 365.
Step 2. Next, you need to browse for DBX files that you want to convert into Outlook 365.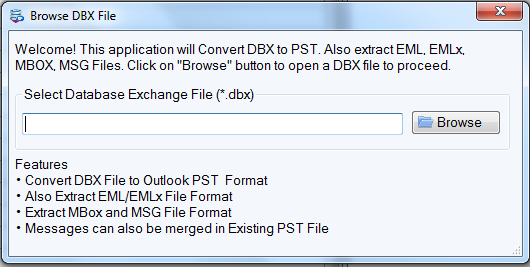 Step 3. Check data of DBX file in preview screen and press Export button.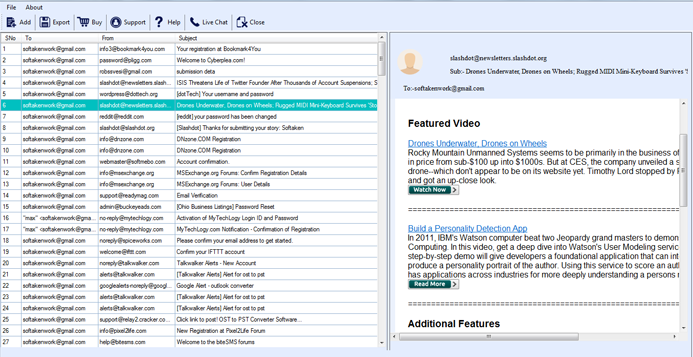 Step 4. From required options, choose PST format for Outlook 365.
Step 5. Specify a destination for saving converted PST file.
Step 6. To commence it, press Convert option.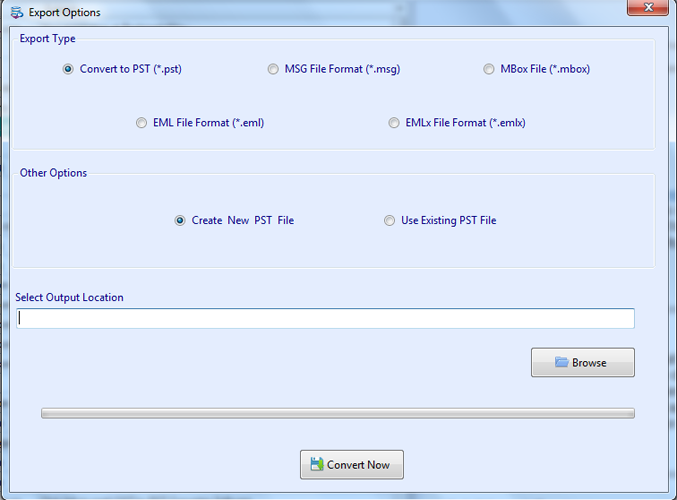 Now, you can get all OE data items into PST file. After this, open this output file in Outlook 365 with its Import/Export feature.
Conclusion
I hope the entire process for conversion of Outlook Express mailbox items to Outlook 365 (MS Outlook) has been cleared to you after going through this post. It first covers manual way which can be complicated & risky for some users. So, the next straight-forward & quick solution is automated program. By using it, one can effortlessly migrate OE folders to Outlook 365. Moreover, free copy for evaluation is provided to all users.