Adding BCC Automatically Outgoing Emails Outlook 2013
BCC allows to copy every outgoing mail to yourself or someone else you want. It is an ultimate email management solution using by many people. But it is frustrating to do the work manually. How to do the BCC automatically. Outlook 2013 like any other Outlook version allows to automatically add CC to every sending mail but it doesn't have the option to active automatic BCC option.
To resolve the problem, Bells & Whistles Outlook add-in is available. It is a smart tool that has over 40 unique Outlook activities to make Outlook experience exceptional. Give a try to this add-in to let your Outlook 2013 always BCC while you replying, forwarding or creating new emails.
How to always BCC yourself with Bells & Whistles
The add-in works with all types of Outlook versions, including the latest 2013. Download Bells & Whistles add-in your computer and access the "BCC" feature.

Go to the Bells & Whistles Options menu options to choose the well suitable option for yourself. Use the filter category to filter the suitable option such as all emails to BCC or only certain contacts or certain actions ( new emails, forward or reply).
If you wish to BCC every email, simply choose "everyone" rule and scroll down the Mail Options until you reach and select the "Message Options" area.
In the Message Options, all you need to click "add these recipients" and then in the "BCC" box, add the email address that you would like to BCC.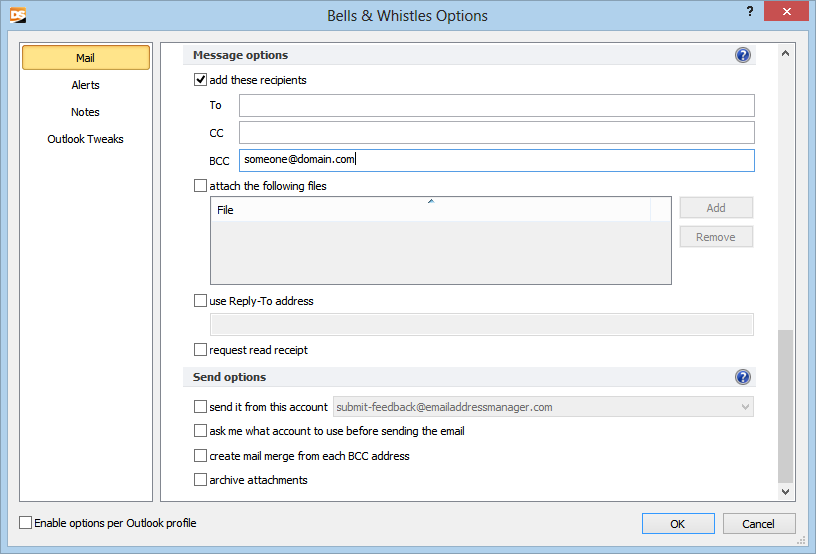 Add multiple addresses and separate them by semicolons. In this process, Outlook will automatically BCC the desired email addresses. The same process can apply for automatically sending TO and CC to desired emails.
That's it. A few minutes can be taken to activate always send BCC to desired addresses. Bells & Whistles is really an incredible program to download on your computer. It offers to make Outlook experience incredible.