How to Always Replay and Forward Outlook 2003-2013 Emails in HTML Format
Replying and forwarding emails in HTML format is very easy. No need to go for technical support because you can do this on your own in a few seconds by following a few simple steps. HTML is a universal format to transfer Outlook data because it easily accommodates in all browsers, no security restrictions and font and appearance defines by web page creator (may appear differently according to browser) and concerns with structure of email content. The article will tell you about how you can set up HTML format for every email forward and replay in Outlook 2003 to 2013 and the Bells & Whistles add-in.
The Bells & Whistles is a superb Outlook add-in which has more than 40 different impressive designs that help managing and composing emails faster and better. It gives you freedom to handle your Outlook emails smartly and impressively. Moreover, it has the ability to allow the use of HTML format for every email replay and forward.
Here are a few simple steps to follow:
Start the Bells & Whistles add-in—select the "Mail" tab—(a new icon will open) enable the "Set format to" option by clicking and choose "HTML" format.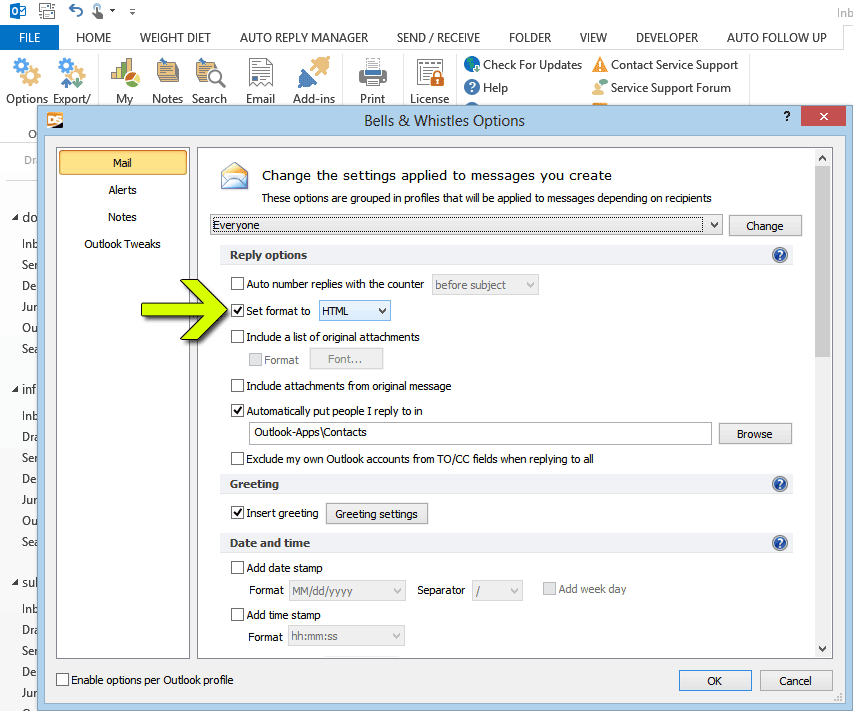 This is very simple. You don't need to take any technical help from others. You can do this on your own. It takes a few seconds. Once the HTML format is activated, you don't need to do anything. Outlook automatically converts all your emails will turn to HTML format during reply and format, even new emails.