How to Send Files Bigger than 20 MB Using Outlook 2013
There is a certain limit for sending files through emails. Outlook 2013 allows to send up to 20 Mb files (does matter you are sending a single file or various files at a time). In case, you attempt to send files more than 20 Mb, it is not possible. An error message appears, telling "The file you are attaching is bigger than the server allows."
Sending long files is restricted in Outlook. Ideally, there are two file attachment limits in Outlook: the max limit enforced by your recipient's mail server and the limit enforced by Outlook.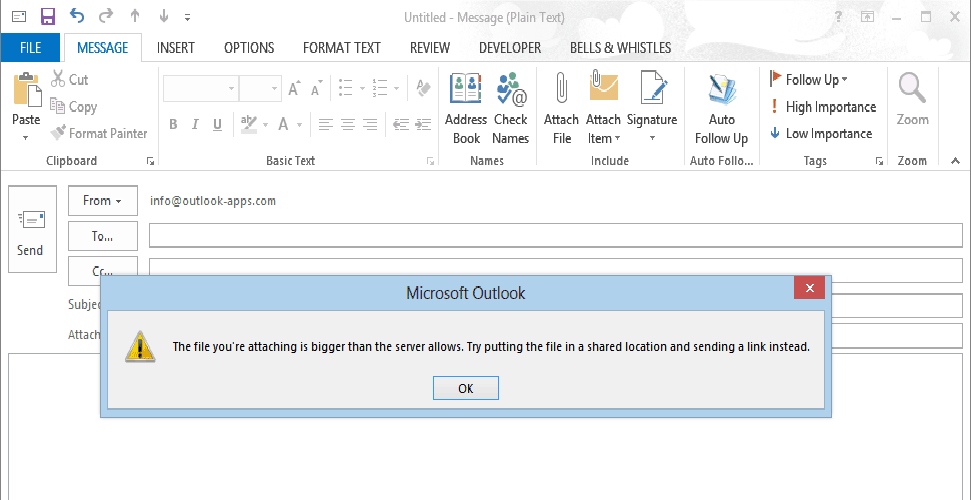 If you are looking for options to send more than 20 Mb attachments using Outlook 2013, here are some excellent solutions.
Go through your Windows Registry to increase the file sending limit of the Outlook
You can use cloud services like iCloud or DropBox or use a file sharing to easily share big files. The download links can easily be mailed instead of the real files.
Use Bells & Whistles to compress files or other compression software like WinRAR (a Window data compression) to compress files automatically to easily send big files.
Note: Even though the file size capacity has increased, it can be useless because the recipient mail server can reject this. Most email servers has capacity to accepting 10 to 30 Mb email files.